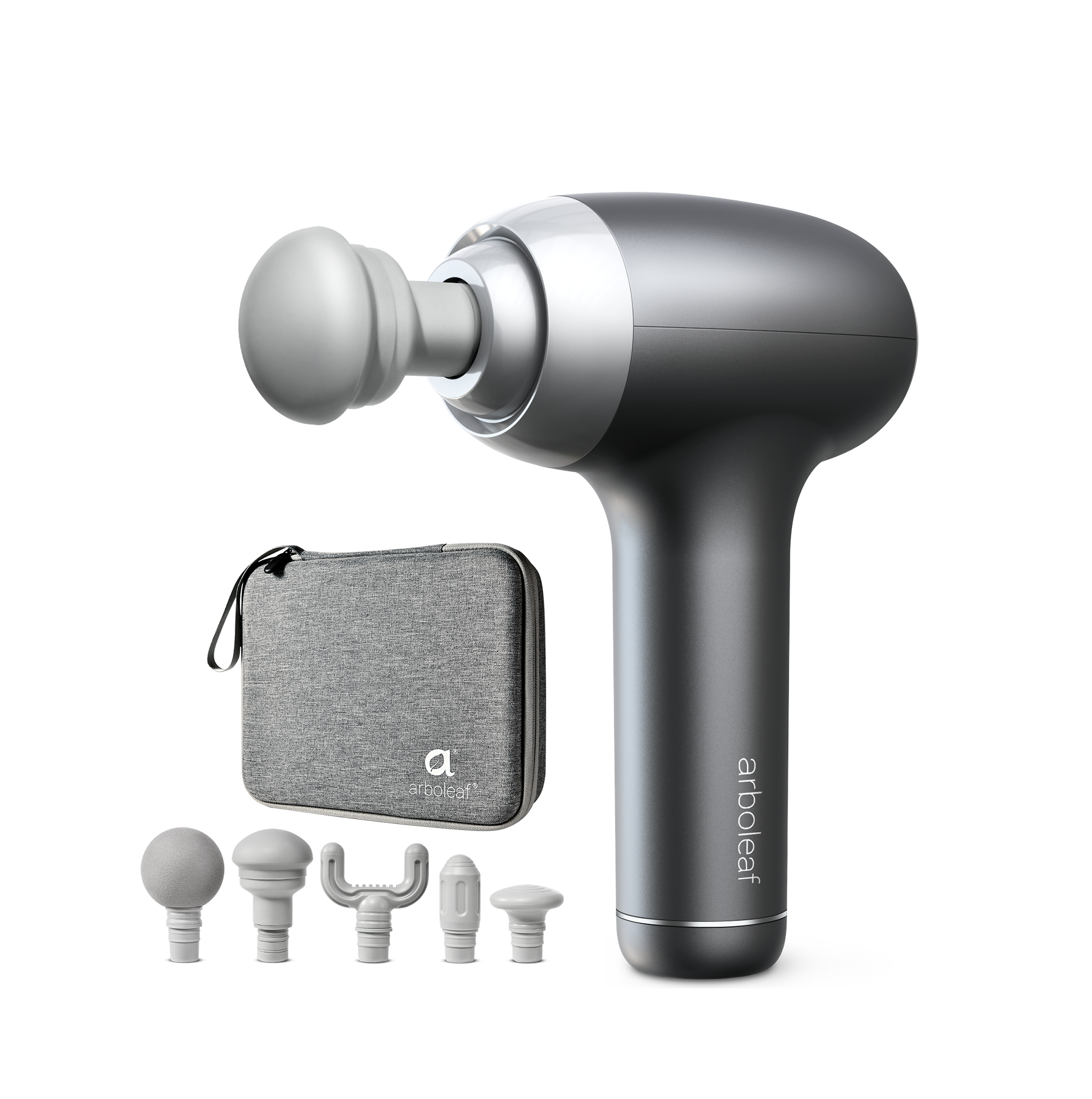 Connect the enclosed USB-C cable with a poweradapter (not induded). The LED display colorindicates the battery level.

(1) The power indicator flashes red - the battery levelis low.
(2) The red light stays on - the battery is in charging.
(3) The green light stays on - the battery is fulycharged.
Select an attachment head

Choose desired head attachment and insert directlyinto the shaft / opening while pushing firmly.

Note: Never change an attachment head when thedevice is on.
Press the Power on-off / Speed switch button for 1.5 seconds to turn on the massager. Initially it will be setat Speed 1. Press the Power on-off / Speed switchbutton for 1.5 seconds toggles power on and off.
Choose your desired speed

The initial gear is at 1. Each time the speed settingbutton is pressed, the gear increments by 1. The LED above the speed setting button wil show the currentspeed.
Note: The higher the speed, the higher the intensity ofthe massage. Below is the general guideline for yourreference.
(1) Speed 1-1500 rpm: for warming up musdles or very sore muscles.
(2) Speed 2-2000 rpm: for soothing tired muscles or sore musdes.
(3) Speed 3-2500 rpm: for relaxing stiff muscles.
(4) Speed 4-3000 rpm: for massaging very stiff muscles or deep tight knots.
(5) Speed 5 Smart Mode - 1500-3000 rpm: automatically adjust the speedaccording to the pressing force.

Auto power off protection
(1) System protection (low voltage prompt): Green light wil be displayed whenthe power is sufficient; red light wil flash when the power is low, at this time, please as soon as possible to charge, if not charging later wil automaticaly shutdown protection.
(2) Blocking protection: When the blocking current reaches the protection value, the motor will stop rotating; after entering the blocking protection state, shortpress the function button to work again. function button to work again.
(3) Maximum run-ime protection: The device wil automatically stop when itruns at one speed for 10 minutes.
Why do I feel pain or discomfort when using the massager?

Massager typically generate vibration and pressure, which can promote muscle relaxation and blood circulation. However, if you feel pain or discomfort, it may be due to using the massager at a high intensity or applying excessive pressure in sensitive areas. Lower the vibration intensity or use appropriate attachments and avoid using the massager on joints, bones, or injured areas.
Which body parts can I use the massager on?

The massager can be used on most muscle groups to promote muscle relaxation and recovery. Common areas of use include thighs, calves, back, buttocks, arms, and shoulders. However, avoid using the massage gun on joints, bones, or any injured areas.
Can the massager replace medical treatment?

Massager are primarily used for muscle relaxation, pain relief, and rehabilitation, and they cannot replace professional medical treatment. If you have severe pain, injuries, or chronic conditions, consult a healthcare professional for advice. They can provide you with more accurate diagnoses and treatment plans.
Please do not use the Massager CM40A, or any percussion device without first obtaining approval from your physician if any of the following apply:

Pregnancy, diabetes with complications such as neuropathy or retinal damage, wear of pacemakers, recent surgery or injury, epilepsy or migraines, herniated disks, spondylolisthesis, spondylolysis, or spondylosis, recent joint replacements or IUD, metal pins or plates or any concerns about your physical health. Frail individuals and children should be accompanied by an adult when using any percussion or vibration device. These contraindications do not mean that you are not able to use a percussion or vibration device but we advise that before doing so you consult your physician. Ongoing research is being done on the effects of percussion massage for specific medical disorders that may result in the shortening of the list of contraindications as shown above.
Use only on a dry surface of the body over clothing by lightly pressing and moving across the body for approximately 60 seconds per region.
Use the Massager CM40A only on the body's soft tissue as desired without producing pain or discomfort.
Bruising can occur regardless of control setting or pressure applied. Check treated areas frequently and immediately stop at first sign of pain or discomfort.
Do not reach for a device that has fallen into water. Unplug immediately.
Do not place or store device where it can fall or be pulled into a tub or sink. Do not place in or drop into water or other liquid
A device should never be left unattended when plugged in. Unplug from outlet when not in use, and before putting on or taking off parts.
Do not operate under blanket or pillow.
This device can be used by children aged from 8 years and above
Use this device only for its intended use as described in this manual. Do not use attachments not recommended by the manufacturer.
Never operate this device if it has a damaged cord or plug, if it is not working properly, if it has been dropped or damaged, or if it has gotten wet. If your device isn't working properly, please connect with our customer support team .
Do not carry this device by supply cord or use cord as a handle.
Never operate the device with the air openings blocked. Keep the air openings free of lint,
Keep fingers, hair, or any other body part away from the shaft and backside of the applicator as pinching may occur.
Never drop or insert any object into any opening.
Do not remove screws or attempt to disassemble.
Massage away stress and tension
Loosen muscle knots and target fatigue and stiffness
Maintain flexibility and range of motion
Accelerate your warmup before a workout
Recover quickly after activity
Why isn't my massager turning on?

Please ensure that your massager is properly charged and has sufficient battery power. Also, check if the power switch is turned on and follow the correct operating instructions. If the issue persists, try resetting the massager or contact us for further support.
Why is my massager making abnormal noise during use? Is it normal?

Some noise during the operation of a massager is normal. However, if you find the noise unusually loud or accompanied by abnormal sounds, it may indicate an issue with the internal components of the massage gun. It is recommended to stop using it and contact us for inspection and repair.
My massager doesn't last long and requires frequent charging. What should I do?

If your massager has a short battery life and needs frequent charging, there could be several possible reasons. First, ensure that your massager is fully charged and use the appropriate charger. Secondly, prolonged high-intensity use of the massager can consume more power, which may result in a shorter battery life. If the problem persists, you may need to replace the battery or contact us for further support.
How do I clean and maintain the massager?

Regular cleaning and maintenance are necessary to keep the massager in good working condition. First, make sure to turn off the massager and unplug it before cleaning. Use a damp cloth or tissue to gently wipe the surface of the massager and attachments. Avoid spraying water directly onto the massager. Additionally, periodically check and replace the massager attachments or components as recommended by arboleaf to ensure its proper functioning.